STOLEN Ref: 2000-011 - 5" Gauge "Speedy" and 7¼" Gauge Driving Trolley
---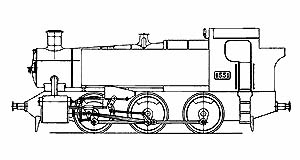 (no photo available at present)
---
This 5" gauge locomotive to the LBSC design was stolen from Wombourne in Staffordshire on the 23rd June 2000.
Dimensions - length approx 35¼", height 13¼", width 9"
The locomotive bears Boiler Number 193 and is missing its safety valve cover. It has a stainless steel smokebox, all cab and platework is unpainted and is made of brass.
Stolen at the same time was a 7¼" driving trolley with wooden sides and fitted with an internal brass water tank. The driving car has 5" diameter, 8-spoke wheels.
If you have any information relating to the loss of this locomotive please contact Wombourne Police on (+44) 01902-894611, quoting Crime No: 14837
[First published: 6 July 2000, Updated: 6 July 2000]
---
---
All information on this site is copyright © Andrew J Clark