STOLEN Ref: 2000-005 - 1957 Trojan "Toraktor"
---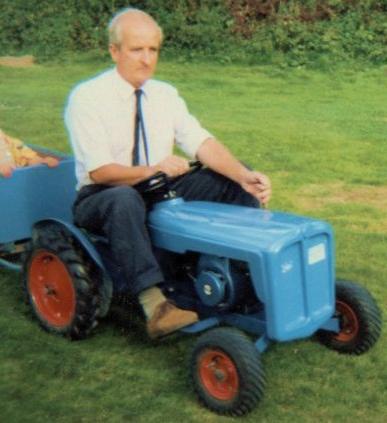 ---
This 4ft long model of a Fordson Major tractor was stolen on 23rd May 1999 from Goudhurst in Kent. If you have any information as to its whereabouts, contact PC Brosnan of Ashford Police (tel) (+44) (0)1233 611055 quoting police incident no. JZ/4228/99
Since this report is so old now, the owner, Timothy Sargent, has advised me that he would be happy to hear directly from anyone with information relating to this theft. You can contact him my mail at "Permanden", Gore Lane, GOUDHURST, Kent, TN17 1JP, UK or by email at Timothy.c.sargeant (at) talk21.com
The model is powered by "Newton" 3.5 hp engine and is finished in Blue with red wheels. It has 3" wide x 10" diameter rear wheels and 3" wide x 5" diameter front wheels. The model has been restored. Only 100 were ever made. The model is powered by a belt & chain drive (forward only). There is no cover over the drive. The driving seat is of blue fibreglass as are the rear wheel arches and bonnet. There is a solid fibreglass grille. The exhaust discharges to the side of the model.
[First published: 27 January 2000, Updated: 17 July 2004]
---
---
All information on this site is copyright © Andrew J Clark