STOLEN Ref: 1999-001 - 1" Scale "Minnie"
---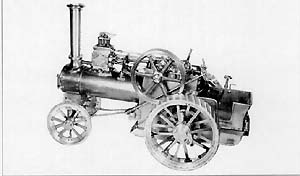 Note that this picture is not of the stolen model, but illustrates the Minnie design. We are grateful to Reeves & Co. for permission to publish it here.
---
A 1" scale model traction engine to the "Minnie" design, finished in maroon and black livery. One unusual feature is that the safety valve top strap was paint finished rather than being left bright. The engine had only run on compressed air.
---
---
All information on this site is copyright © Andrew J Clark